Unsung Story Wiki
Welcome to the Unsung Story Wiki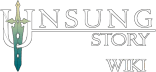 the
Unsung Story
compendium by the players, for the players.
We are currently maintaining 425 pages (40 articles).
Please feel free to contribute by creating new articles or expanding existing ones.
Participate
Have a page you'd like to add to the Unsung Story Wiki? Get started by giving your article a name and hitting "Create Page." Edits and improvements to existing pages are also appreciated.
Adding content

If you are unsure of what to do or how to create a page, search for a few articles on the same topic and see what they look like. You can always view the source code in a wiki and learn from what others have done.
An edit doesn't have to be massive; if you feel you don't want to create whole articles, then just fixing spelling errors and broken links is enough.
About
"

Unsung Story takes place in a medieval fantasy world where spells are cast as songs, and magic can reshape reality. With the threat of such power, the original shapers created a way to stabilize the world. Since the beginning of time, History has been sung and recorded in magical schools around the world.The game opens at the end of a 77-Year War. We follow a squad of aging heroes as they are given a covert mission: to infiltrate the archive of a nearby school and cast a legendary spell that may turn the tide of the conflict.

Unsung Story is Yasumi Matsuno's spiritual successor to Final Fantasy Tactics and Vagrant Story with many exciting innovations. In a world where spells are cast as songs, and magic can reshape reality. The original shapers created a way to sing history and store it in the grand Opus to stabilize the land. But now, the 77-Year War has come, and evil has won. Players start at the final battle, and work their way back in time to save the world.

Key Features

Epic Storyline: Explore an all new magical world where spells are powered by songs created by master Tactics designer Yasumo Matsuno (Final Fantasy Tactics, Vagrant Story, Tactics Ogre).
Unique Perspectives: Play through 5 chapters in 50 missions across different parts of history as you travel back in time and adventure with different heroes on each side of the 77-year war.
Deep Progression: Customize your Unsung heroes from 20 classes and over 240 abilities.
Innovative Tactics: Outmaneuver your foes with our unique Triangle Grid* system that allows for six angles of movement and attack.
Incredible Soundtrack: Experience an all new musical score by world renown composer Hitoshi Sakimoto (Final Fantasy Tactics, Vagrant Story, Tactics Ogre).

"
~ from the official site
* The triangle grid has been abandoned. Unsung Story will be using a square grid.
Release date: Q4 2020